Believe in Good
Thành viên thân thiết
Tham gia

11/11/2008
Bài viết

9.575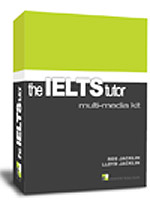 The IELTS Tutor Video Course
The IELTS Tutor is a multimedia package designed to help you achieve success in the IELTS test. The authors of The IELTS Tutor have many years of experience as IELTS instructors at a number of Language Colleges and Universities in Australia and overseas. The IELTS Tutor includes many of their classroom teaching suggestions which will help you to be prepared for the test and achieve the best result possible.
The IELTS Tutor is like a personal teacher that helps you to overcome difficulties in the simplest ways. This product has already helped thousands of students to prepare for the IELTS Test and has been distributed by The University of Queensland, Institute of Continuing and TESOL Education (awarded the IELTS Centre of Excellence in 2006) and Macquarie University (one of Australia's largest publishers of IELTS preparation material). This product therefore meets the highest standards as set by these two respected academic institutions.
The IELTS Tutor is now available direct to the public as a multimedia package. This means that we have been able to reduce the cost of the product dramatically.
The package contains the following:
* An example speaking test (including practical suggestions) to help improve your fluency and coherence.
* Example writing topics and strategies that will help you to feel prepared regardless of the topic.
* Practice Reading Tests and answer keys.
* Tips for the Listening test
* Simple and easily understood strategies to assist you in the two writing tasks
* The IELTS Tutor contains numerous other practical suggestions that experienced IELTS teachers realize candidates need to know in order to achieve the best result possible on the day of the test
Download
Mã:
http://hotfile.com/dl/38148461/6e59d39/the.ielts.tutor_LACDMY.part1.rar.html
http://hotfile.com/dl/38148501/0c23cae/the.ielts.tutor_LACDMY.part2.rar.html
http://hotfile.com/dl/38148547/d814e2c/the.ielts.tutor_LACDMY.part3.rar.html
http://hotfile.com/dl/38148612/2aefea9/the.ielts.tutor_LACDMY.part4.rar.html
http://hotfile.com/dl/38148717/017df14/the.ielts.tutor_LACDMY.part5.rar.html
http://hotfile.com/dl/38148790/765df26/the.ielts.tutor_LACDMY.part6.rar.html
http://hotfile.com/dl/38148801/fd4054d/the.ielts.tutor_LACDMY.part7.rar.html