Visit Cairns for the Great Barrier Reef, but don't miss the great things to do around this Far North Queensland town. Stunning beaches, spectacular hinterland and renowned rainforests set the scene. Look deeper, you'll find local and organic produce, brilliant cafés and bars, bustling markets and laid-back friendly people that make Cairns a favourite destination for young and old, couples and families. Relax by a resort pool or spend your days exploring. A tropical holiday awaits.
places to visit
in Cairns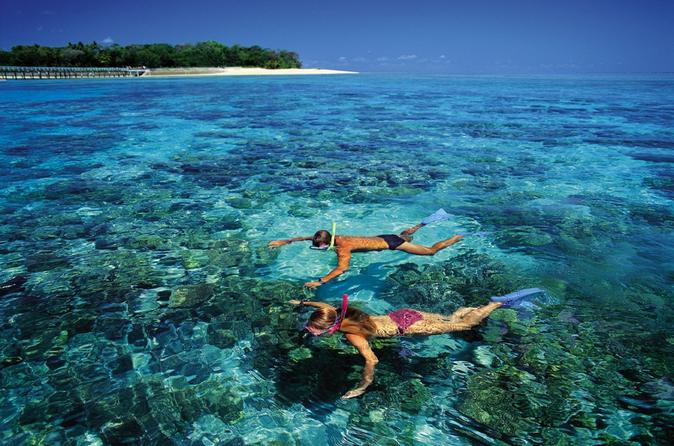 The Great Barrier Reef
No visit to Cairns is complete without spending time at the Great Barrier Reef, the world's largest coral reef system — made up of nearly 3000 individual reefs over an area of 344,400 square kilometres (133,000 square miles), it's even visible from outer space. Day cruises out on the water with operators such as Quicksilver Cruises — whether on a small vessel or large liveaboard boat — give you the chance to snorkel and dive among the vivid coral gardens. Options are available to suit a range of budgets; for a longer stay, you can book a night staying on the World Heritage site or ProDive Cairns' three day liveaboard dive and snorkelling cruise. Alternatively, get a magical bird's-eye view of the reef by booking a scenic helicopter flight over the Outer Barrier Reef. These can be combined with a boat journey back to Cairns, or can skip water travel completely.
Café Culture and Foodie Fixes
Cairns has an established coffee shop scene, and those seeking a caffeine hit will find many trendy cafes on Grafton Street and Spence Street. Not only will you get a strong cup of freshly-ground coffee, you'll also be spoilt with the breakfast and brunch options dotted across the city. For a memorable evening of good food and fine wines, take advantage of Cairns' balmy weather and dine al fresco on The Esplanade, with rustic Greek dishes fromYaya's Hellenic Kitchen and modern Asian fusion from The Raw Prawn, among others
Platypus in the Wild
Find cooler temperatures and a whole different vibe in the stunning Cairns highlands, the Atherton Tableland. Set 1000 metres (3280 feet) above sea level, you'll find quaint townships and coffee, honey, fruits, artisan dairy products and macadamia nuts. Don't miss the Tarzali Lakes platypus park and the 800-year-old Curtain Fig Tree. Drive the 16-kilometre (10-mile) Waterfall Circuit, taking in Milla Milla, Zillie and Ellinjaa Falls.
Tjapukai Aboriginal Cultural Park, Cairns, Queensland
Experience Aboriginal Culture
Explore the rich history of the world's oldest living culture — dating back over 40,000 years — at the Tjapukai Aboriginal Cultural Park. Located just 15 minutes outside of Cairns, this authentic Australian Indigenous experience combines live performances of music, dance and storytelling.Around 90-minutes north is the Mossman Gorge Centre, an eco-tourism development that allows visitors to explore the gorge while learning about the local Kuku Yalanji culture. The Bama Way, an Aboriginal journey from Cairns to north of Cooktown, lets you see Queensland from a traditional perspective, from learning to throw a spear to hunting and gathering bush tucker in the mangroves
Rainforest Treks
things to do in Cairns, Explore Australia's largest continuous area of tropical rainforest, the Daintree, which is also the oldest lowland rainforest on Earth at 135 million years old. Hidden in the diverse range of lush vegetation you'll see a wide variety of rare creatures, like the tree-dwelling kangaroo and the endangered cassowary. Gentle cruises down the Daintree River are a great way to relax, especially if you'd like to go crocodile spotting.
On foot you'll find that rainforest meets reef at Cape Tribulation, where you can easily lose hours wandering the white sand, dipping a toe into clear turquoise ocean. The World Heritage-listed area is two hours north of Cairns and can be done as a day trip from the city, giving you a number of hours to explore the area. Alternatively, a popular choice is to spend a night or two in the eco-lodges found here at
places to visit
in Cairns
Skyrail Rainforest Cableway, Barron Gorge National Park, Queensland
Skyrail Rainforest Cableway and Kuranda Scenic Railway with Kuranda
Kuranda, a beautiful village hidden by tropical rainforest, gives you a chance to delve into an arty Queensland community. Fig trees line the main street while colourful parrots and butterflies flock among ferns and orchids. You'll find galleries, market stalls and boutiques to occupy your time. A journey to and from Kuranda is arguably the highlight. The Skyrail Rainforest Cableway takes you over and through World Heritage Rainforest on a 90 minute experience, allowing time at two rainforest stations, Red Peak and Barron Falls.
On your way back to Cairns, you can travel on the equally impressive Kuranda Scenic Railway, to complete your experience of these iconic attractions. This historic two-hour train journey, things to do in Cairns operating for over a century, takes you through the lush region, taking in dramatic mountainous scenery and teeming waterfalls.
Get Extreme
Find some of the best white-water rafting rapidsin Australia on the Tully River and Barron River, or try a half-day of tubing on the Mulgrave River. Tandem skydives are available for the true adrenaline seekers — with the aerial view of the Great Barrier Reef an obvious draw — as is bungy jumping at AJ Hackett's (where you can also ride their Minjin Jungle Swing). Other activities in the area include quad biking, horse riding and hang-gliding as well.
Market Shopping
Don't miss the Saturday Esplanade market for jewellery, clothing and locally made skincare that celebrities swear by. Swing by the Friday Night Market at Palm Cove, the monthlyHolloway Beach Markets or Tanks Market in the gardens for great food and a social vibe. Mingle with locals at Rusty's, where the best regional produce — from sweet pineapples to toothsome macadamias — is fresh and cheap.
Fitzroy Island, QLD
Island Exploring
Discover some of the reef's unspoilt islands. Jump on the Fitzroy Fast Cat in Cairns for 45 minutes and you'll reach Fitzroy Island. Here, you can explore the bush walking tracks or learn about the dedicated work of the Turtle Rehabilitation Centre – helping sick and injured turtles recover enough to be realised back into the wild.
Make the crossing to Green Island, a coral cay less than 30km off the shore, for snorkelling and diving all year round, as well as helmet diving that lets you walk along the sea floor. things to do in Cairns For an 'off the grid' adventure, visit Hinchinbrook Island, Australia's largest national park island. Largely uninhabited, you can cruise through mangrove everglades or find isolated beaches (there are 11 of them around the island).
Go Fish
On the edge of the world's largest reef system, go fishing for big game with one of the many experienced operators who are aware of the environmental sensitivities and regulations. There are also world-class catches to be had by beach and estuary fishing from Kings Point and in Lake Tinaroo. Try to catch your very own barramundi, the legend of Far North Queensland angling.places to visit in Cairns